About Tasek Bera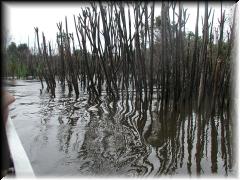 Tasek Bera is the largest freshwater swamp in Peninsular Malaysia situated in the south of Pahang State.
It is a unique mosaic of different habitats like swamp forest, pandanus stands, reedbeds and open water all surrounded by forest.
The area is rich in biodiveristy, including many different kinds of birds, endangered species such as crocodiles, tigers and elephants, endemic water plants and almost one hundred different fish species.
The area has therefore become Malaysia's first Ramsar site, a status which demonstrates that it is a wetland of international importance
- you don't want to miss it !
Read more about the Semelai people and Tasek Bera on the website of Yale Peabody Museum