Jungle camp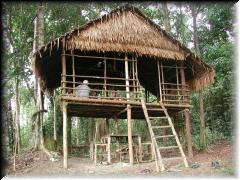 We can arrange overnight trips to the jungle and swamp. Here we will stay at our isolated jungle/lake campsites with only very simple facilities to experience a close encounter with the swamp and jungle.
Our new campsites at Tasek Bera are:
Kampung Chenderung Jungle Camp
Ideal for the more adventurous who love roughing it out in the great
outdoors. This campsite is near two to three challenging jungle trails that pass through virgin forest at Tasek Bera. The short trails will take one to two hours to complete. Longer trails can last from three to five hours. Apart from the lush flora, you can check out animal traps and, if you're lucky, see animals like birds, mousedeer, porcupine and more.
Kampung Sembilan Campsite
With a beautiful lakefront view and picture-perfect scenery, Kampung Sembilan is strategically located for campers. It is equipped with toilets, bathing and cooking facilities. You can also experience staying in a traditional Semelai house which can accommodate 35 people at a time.
Kampung Dato Campsite
Kampung Dato campsite which can house 20 people at a time provides you with many opportunities to meet the Semelai, young and old, because is located near the cultural village of Kampung Jelawat. Home to many musicians and skilled craftsmen, Kampung Jelawat, remains largely untouched by modernisation until today.
Kampung Mikok Campsite
At just a three-minute walk from the lakefront, Kampung Mikok is strategically located at the midway point of Tasek Bera waterway. Ideal for 20 people, this campsite is also equipped with a traditional house and basic amenities. You can see many different types of aquatic plants and habitats here.